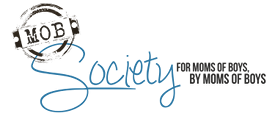 I'm super excited and honored to join the very-talented team of writers at the M.O.B. Society – in other words, the Mothers Of Boys Society.
And boy, oh boy, oh boy…Do I know young boys these days…
The burping.  The burping out the other end. The wrestling. The deafening decibels. The attraction to all things visual.  Yes.  All things.
Will you visit me there today?  It's my first time on the site and I would love your support!  Plus, I think you'll get a good chuckle out of my post…Particularly if you're a mother of boys – and even if you aren't.