Three years ago yesterday, one of my dearest friends lost her six year old daughter to leukemia.
I didn't know her well then and never had the honor of knowing her sweet daughter but yet still I mourn this loss.
I mourn because I love my friend so much and I'm a mother – my heart resides on the outside of my chest.
I regularly stand in awe of this warrior, this friend of mine who has walked a path that sends a shudder down the spine of any woman who has ever born a child from their heart.  Who tells of stories when the treatments weren't fun and after all, she was just four at the time and the WHY.  WHY.  WHY. WHY.
And while sitting in her kitchen as she sipped coffee, I listened to her say the words I have heard her utter before yet still ignite my soul.
"I don't know how people do it if they don't have faith," she said.
I concur.  Because I don't either.
This past weekend, my friend posted an update on her Caring Bridge site and her beautifully honest words put some skin on what those who grieve deep-roots grief must feel each day.
"The anticipation of this anniversary has hit me hard. I again feel like I'm on the tightrope walking and trying hard to get my balance and my footing.  I miss Caroline.  I miss her terribly.  I see her everywhere and for that I am grateful.  It is hard, but it is good.  I'm not sure I've actually felt very much since she died.  It is slowly coming back.  It hurts and is hard, but feeling is better."
I sit down to write, to put words on a screen that convey what I'm feeling at the start of this Holy Week, a week in which I'm usually somewhat melancholy anyway, so I decide to read my friend's entry before I stare at the blank screen.
A mother who mourns for her daughter who died far too soon.
A Father who lost a Son.
Suddenly, I see.
"You think this was easy?" He seems to say.
"I gave my ONLY CHILD for you," I hear.
His tone is not angry.  It's real.
It's a sacrifice I can't even begin to wrap my pea-sized brain around.
On Good Friday, while I'm sitting in the pews of my church's touching noonday service where we literally hammer our sins, written on a piece of confidential paper, to a wooden cross, I know I will find myself thinking about Mary because it's inevitable.
This is simply just how we mothers are.
She stood at the foot of the cross while he suffered and was powerless.  She could do nothing to save her son.
I think my sweet friend knows a thing or two about this.
Yet with this loss, this sting she feels each day, has come a breathtaking renewal, one that has been a gift to observe.  A faith that has grown tenfold.  A stunning dance with her Heavenly Father. A transfer of this blooming faith to her remaining two daughters. A beautiful trust.  A real, belly-laughed giddy joy.
Sharper eyes that see clearer and just know.
And with our Father's loss?  The most stunning example of love and hope imaginable.
On this Multitude Monday, God, Father of Jesus and the rest of us, I thank you for:
401.  Your Great Plan
402.  Your Son
403.  The fact that I will see you one day because of your Son
404.  The ways you have been communicating so intimately with me as of late
405.  Not rolling your eyes when I ask, yet again, if you would please empty me of myself and fill me with more of you.
406.  Friends who are survivors.  You know who you are.
407.  A young boy who asked his mama this week if he could ask Jesus to come into his four-year-old heart.
408.  The angels that sang.
409.  Young children waving palm leaves
410.  Your Ultimate Sacrifice
As we embark on this week of contemplation, may you feel His love.  His sacrifice.  What He did – just for you.
Visit other gratitude counters at Ann's place…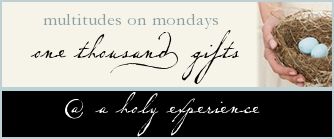 And the sweet sisterhood at Jen's place…